Our Community
The MED Sustainable Tourism Community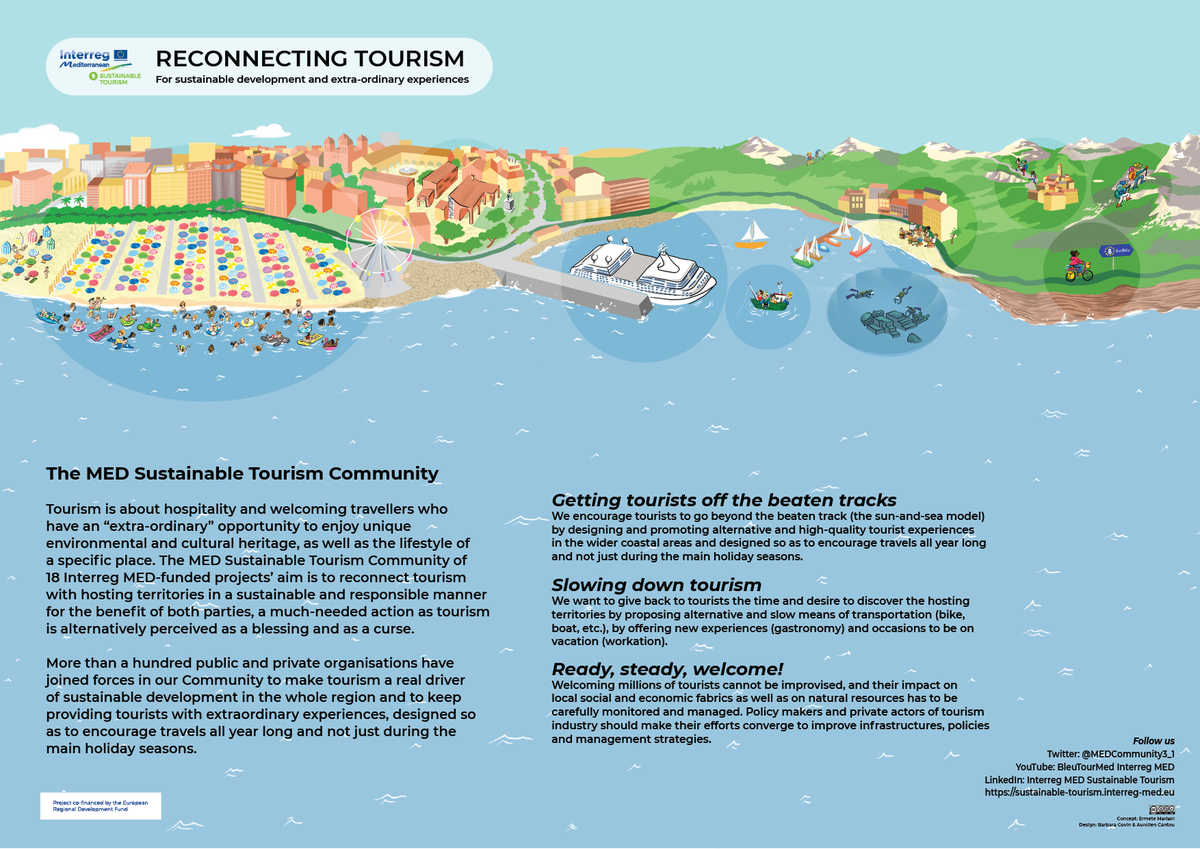 Since November 2016, the Sustainable Tourism Community is gathering key stakeholders (mainly public authorities, private companies, universities, NGOs and international organisations) who actively work to make tourism a real driver for inclusive and sustainable development in the Mediterranean region.
The Community can now rely on 22 territorial cooperation projects and almost 400 organisations (mainly public authorities, private companies, universities, NGOs and international organisations) active in 13 European countries to promote sustainable tourism by capitalizing on tools and good practices developed by its projects. Besides, two Strategic Projects, approved in October 2019, focusing on governance of sustainable tourism are joining forces with the Community to achieve our common policy targets.
------------
To discover and take stock of the Community's achievements we invite you to discover our flagship publications, namely:
/ in the Community brochure you will discover the main aim and the partnership composition of the territorial cooperation projects (new projects will be added soon);
/ the illustrated Poster will help you understand the main areas our Community has been working on;
/ interactive visulisation of policy targets our Community is addressing;
------------
Besides these materials you can find on the Community website:
/ Thematic Papers analysing the main features of our Community
/ Thematic Reviews collecting news and events on the topics of our working groups
/ Thematic Factsheets introducing how the Community is tackling sustainable tourism strategic issues
/ Policy Factsheets produced by our working groups
/ Policy Recommendations summarising how policies should change to really support sustainable tourism development
/ Athens Declaration for sustainable tourism, our community's manifesto on tourism as a driver for inclusive and sustainable development
/ Scientific Publications based on the results of the Community published on international academic journals
/ plenty of news on what the Community has been doing since its beginnings and interesting news about reports and events on sustainable tourism
------------
To discover our flagship events, interviews and to get to know some of our projects' partners you can follow our video and podcast channels:
/ YouTube: Sustainable Tourism Interreg MED
/ Podcast channel Interreg MED Sustainable Tourism Community
------------
For the latest updates on our community, we invite you to check regularly our website and social media channels:
/ Website: https://sustainable-tourism.interreg-med.eu
/ Twitter: @MEDCommunity3_1
/ LinkedIN: Interreg MED Sustainable Tourism
/ Facebook: Sustainable Tourism Community - Interreg Med
/ Newsletter: https://bit.ly/2YxCeRn
------------
The MED Sustainable Tourism community is an Interreg MED Programme initiative coordinated by DIBA - Barcelona Provincial Council (Barcelona, Spain), in partnership with UNIMED - Mediterranean Universities Union (Rome, Italy), University of Thessaly (Thessaly, Greece), NECSTour - Network of European Regions or Sustainable and Competitive Tourism (Brussels, Belgium), Arco Latino, a network of local public authorities (Tarragona, Spain), Plan Bleu UNEP MAP, the Regional Activity Centre of Mediterranean Action Plan (Marseille, France), Adriatic and Ionian Euroregion (Pula, Croatia) and RDA Green Karst Regional Development Agency (Pivka, Slovenia).
Should you need any further information do not hesitate to reach out to us.
All the best and keep in touch!
Ermete Mariani
On behalf of the Sustainable Tourism team
Communication manager, UNIMED – Mediterranean Universities Union
0 result found for your research.